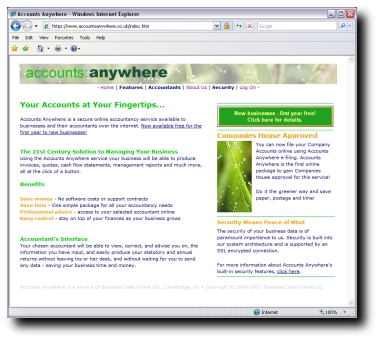 Accounts Anywhere
Accounts Anywhere is a secure online accountancy service available to businesses and their accountants over the internet. It offers an easy-to-use but feature-rich accounts service with a high level of reliability at a very low cost.
Accounts Anywhere is appreciated both by accountants and by their clients, providing a convenient way of monitoring clients' accounts without the need for face-to-face communication.
Click here to visit the Accounts Anywhere site
Easy Accounts for Small Businesses
Using the Accounts Anywhere service your business will be able to produce invoices, quotes, cash flow statements, management reports and much more, all at the click of a button. Your chosen accountant can then view, correct, and advise you on, the information you have input, and easily produce your statutory and annual returns without leaving his or her desk, and without waiting for you to send any data—saving your business both time and money.
Security Features
Accounts Anywhere offers a high level of data protection. Your data resides on a secure dedicated server accessed via a Secure Sockets Layer (SSL) encrypted connection. All data is preserved for three years after the year to which it applies and can then be archived if required.
The service is continually monitored for attempted misuse. Any unauthorised attempts to gain access are logged and investigated.
Multi-level keys and passwords ensure that every operation is only carried out by someone who has a right to do so, and each user's data is 'hermetically sealed' to prevent accidental or unauthorised access.
For Accountants and
their Clients
By offering Accounts Anywhere to your clients you have the opportunity to add value and transform your relationship. You can offer them this unique online service, where you both have up-to-date access to their accounts.
The client user interface is designed for simplicity and requires no previous accounts knowledge. Nevertheless it prepares all the reports and ledgers expected of a quality accounts system, and your clients will be up and running in no time.
As their accountant you can keep a watchful eye on the data being entered, how the business is going and, when needed, make adjustments and prepare reports and statutory returns.